Fitted bolts was the name of the game for the work session held Nov. 2-3. Gordon Cook made the bolts, and he and Rick Sisson were able to install five bolts in the frame. These special bolts are necessary to protect cast-iron components from potential damage during the riveting process.
On Tuesday, Gordon and Jason took the cylinder half-saddle castings to Mountain Machine Works in Auburn, Me. This firm has the capabilities to machine the mating surfaces between the two castings, plane the valve faces and bore the cylinders. In addition, the large rear frame casting will be taken to Mountain Machine for final machining. We expect these pieces to return to Sheepscot early in 2023.
Over the next several months, the pedestal binders and cross frame braces will be made. When the parts are returned from Mountain Machine, the three major frame components and the cylinders will be united into a single unit to support the rest of the locomotive.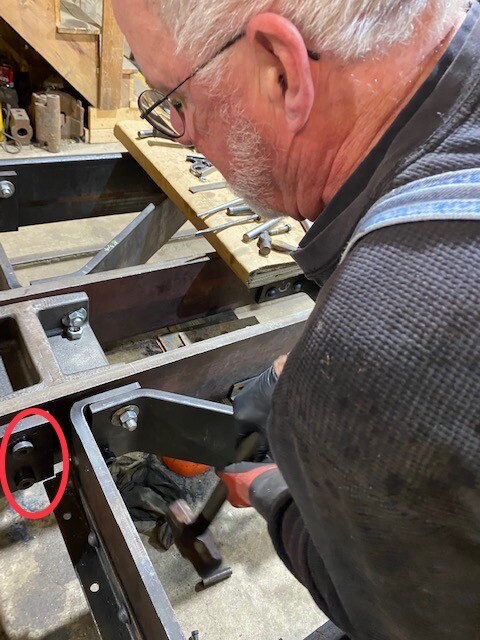 Gordon cook carefully hammers a fitted bolt home. At the left side of the photo, two completed fitted bolts are circled. Photo by Rick Sisson.
On the fundraising front, we are just $2846 short of the overall goal for the year of $70,000. We're grateful for your continued interest and support.
We'll start a new round of fundraising for No. 11 on January 11, 2023 with a goal of $50,000. To all the folks who have contributed to the Build 11 Project over these past years, we thank you. Thank you for sticking with us as we strive to make this happen. We've raised three-quarters of the final goal of $350,000, and at every work session, No. 11 becomes more of a reality.