On Nov. 30 and December 1, a four-man crew including Jason Lamontagne, Gordon Cook, Rick Sisson and new volunteer Eric Snyder completed flanging the throat sheet for No. 10. This work included forming the knuckle by hand, using wooden mallets to form the final curve over a die. The flanging machine was used to hold the workpiece in position on the template during this operation.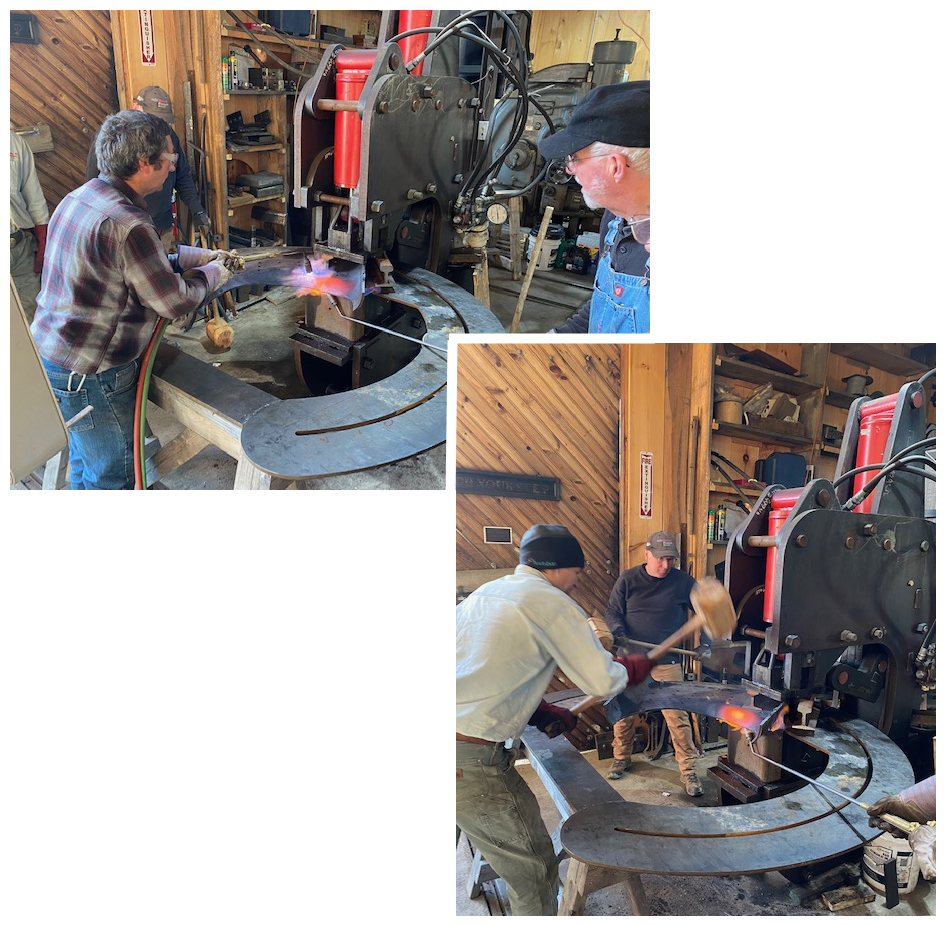 That work completed the flanging of components for No. 10's new boiler. They will be sent out for normalization by heat treatment, and when the parts are returned, the crew will begin to fit-up and test assemble the parts before sending them to Maine Locomotive & Machine for welding. This should mean that No. 10's boiler will be completed other than installation of the flues. Sometime in late winter or early spring the boiler will be reunited with No. 10's frame, and we may then see No 10 returned to service sometime in 2022!
After the parts for No. 10's boiler are sent to ML&M, the next step will be to make the throat sheet for No. 11's boiler. That's the last component for the boiler, so all those parts can also be normalized.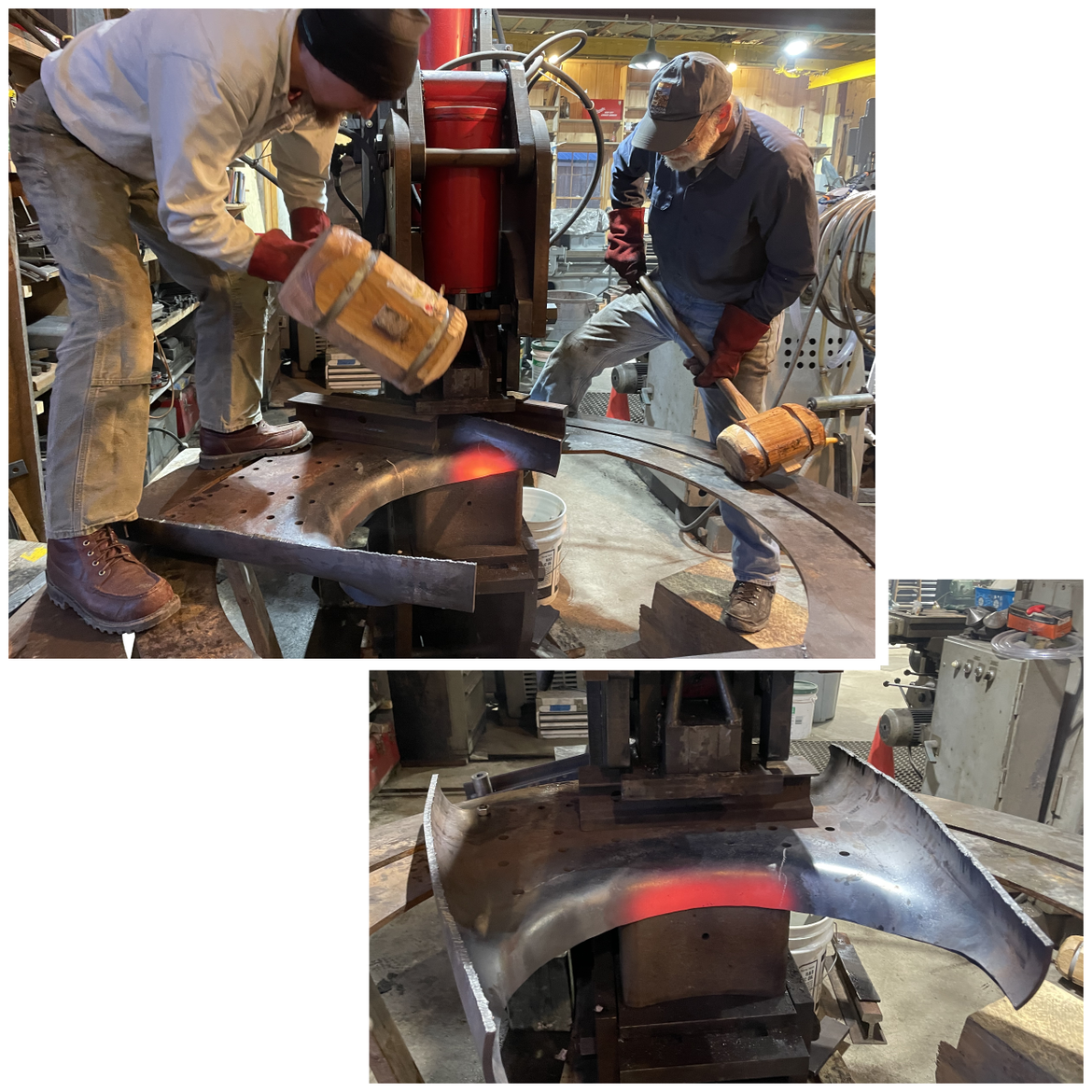 The latest word from Dakota Foundry is that a subcontractor making the cores for No. 11's cylinder half-saddle castings is backed up, and they now expect to cast them in January. They will cast our other components — drive wheel centers, cranks and rear frame extension at the same time. They will go to another shop for heat treatment to produce ductile iron.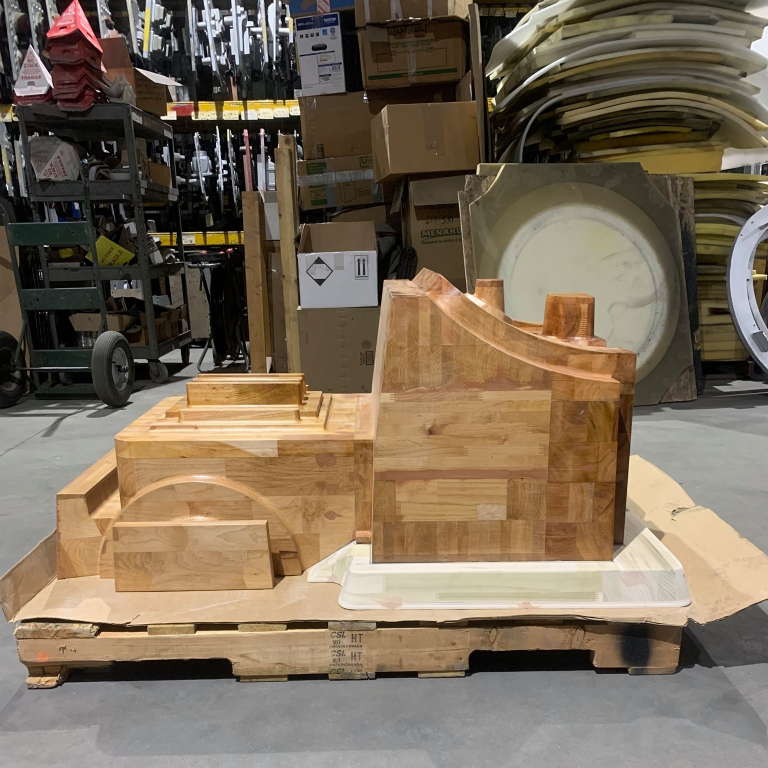 We can sympathize with Dakota, as our shop is backed up with projects, too, and there is currently no space available for us to begin assembling No. 11's frame at this time. Next spring….
As we raise funds to build WW&F No. 11, we previously had two levels of fund-raising, the full-size brass builder's plate for $1100, and the 3D printed mini builder's plate for $110. Now we've got something for everyone! For just $11, you can have the Build 11 Challenge Coin. Challenge coins started in the military, with each outfit making their own coins. The lore around these coins is that if you challenge someone with your coin, and they have theirs on hand, you have to pay the penalty — buy a round of drinks or do push-ups. Otherwise, they pay.
Due to a mix-up in the manufacturing process, the first 100 coins have a spelling error, never to be reproduced. These coins will make great stocking-stuffers! If you want one, you can buy one from the WW&F Museum Gift Shop for $11. Once they're gone, they're gone, and the new ones will be correct.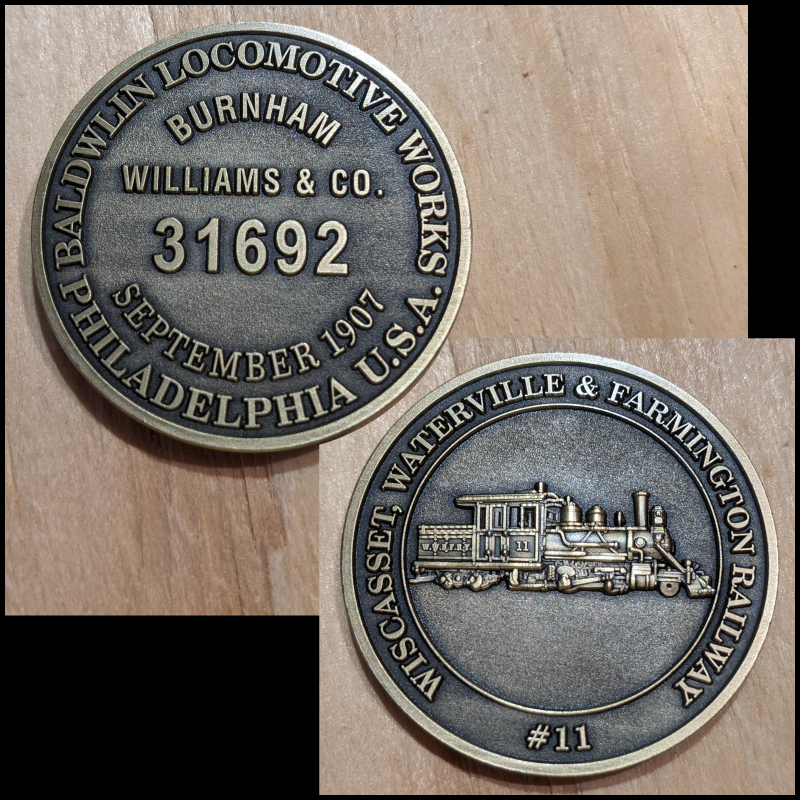 In other news, the 2021 fund-raising effort for the Build 11 Project is winding down. It will conclude on Dec. 31. Right now, the total on hand is $89,118, which is 178% of our $50,000 goal. To all of you who have supported this project in 2021, thank you, thank you. We'll be announcing the 2022 version of the Build 11 Project on January 11, 2022.
Finally, may we wish everyone who follows this project a Merry Christmas and a happy, healthy and prosperous 2022!