Build 11 – September Update
This is really great news!
Dakota Foundry reports they have completed all the patterns and cores for the cylinder half-saddle castings for No. 11, and they sent some photos. They will be preparing the molds and are planning to pour the pieces soon. We can expect the completed castings, each of which will weigh about 1500 pounds, sometime around the end of the year.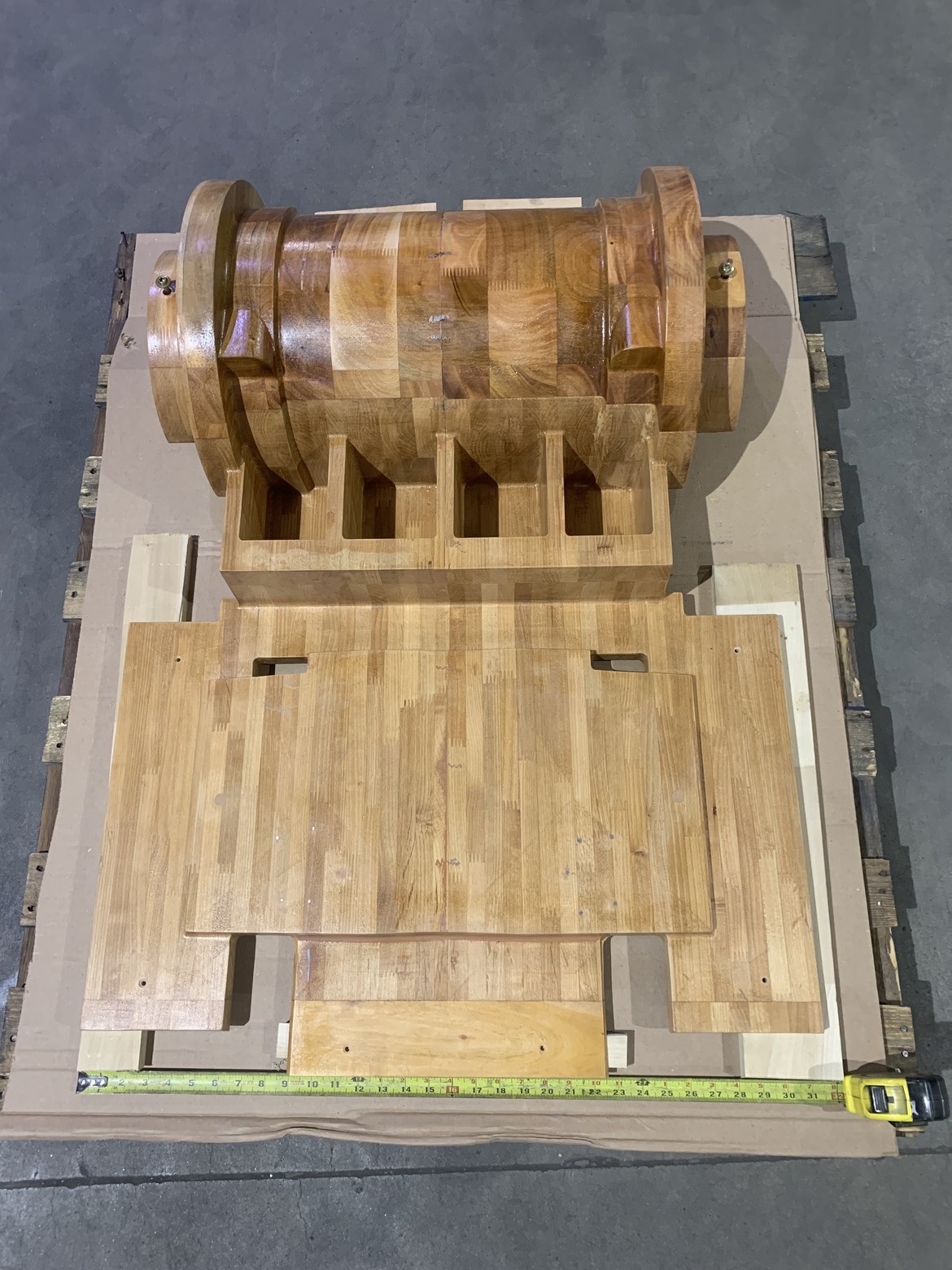 This photo shows the completed pattern for one half of the mold. As you can see, it is a large piece. The tape measure at the bottom shows that it is about 32 inches wide.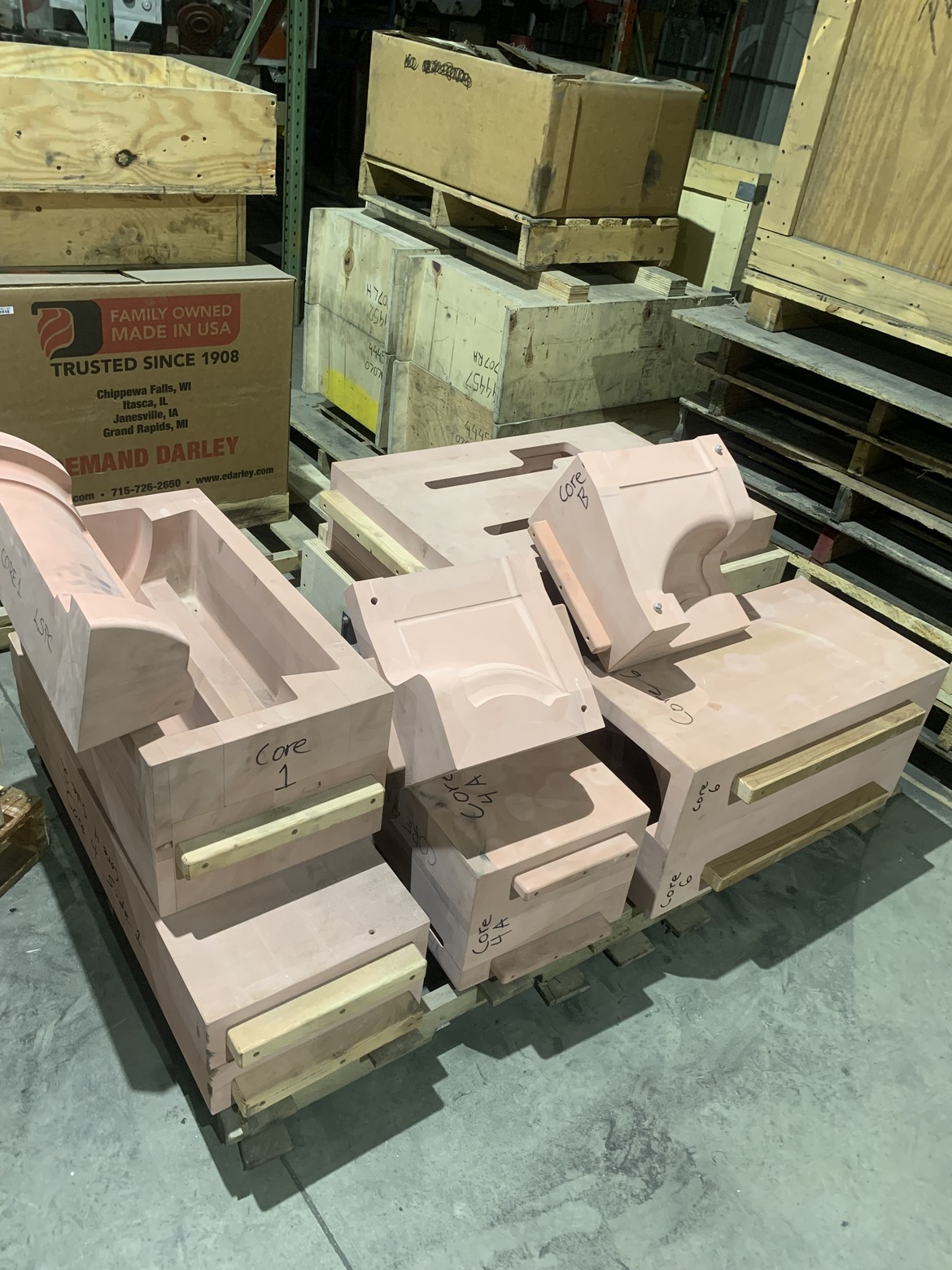 This photo shows several of the cores and core boxes, which create cavities inside the mold during the pour.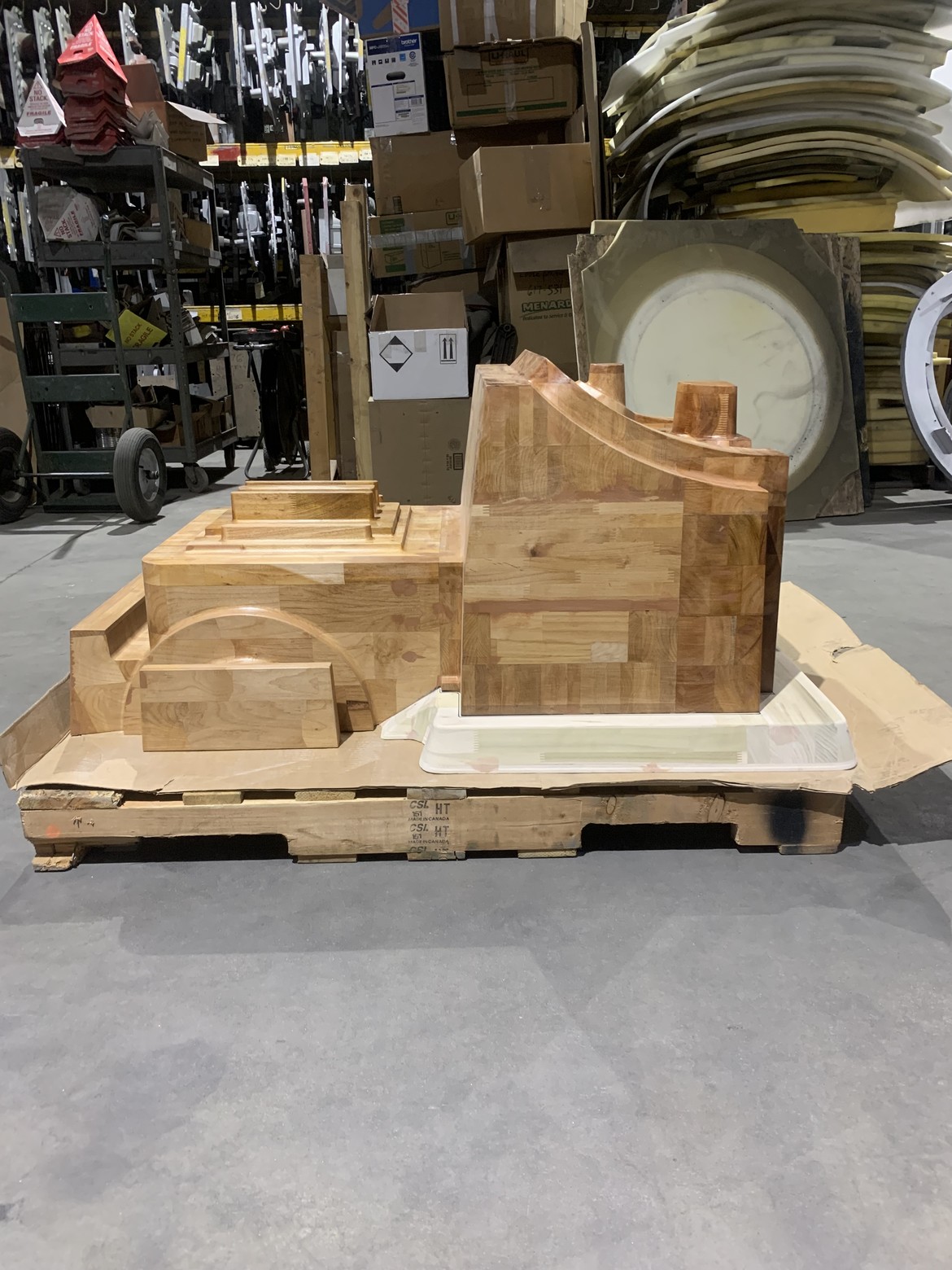 This image is of the cope, or top half, of the two part pattern used to make the casting. On the right side, the curve is where the casting will be mated to the smokebox of No. 11. At the center left is the valve portion of the casting, and on the extreme left is where the frame of the locomotive will be bolted to the half-saddle. The bottom half of the mold (not shown) is known as the drag.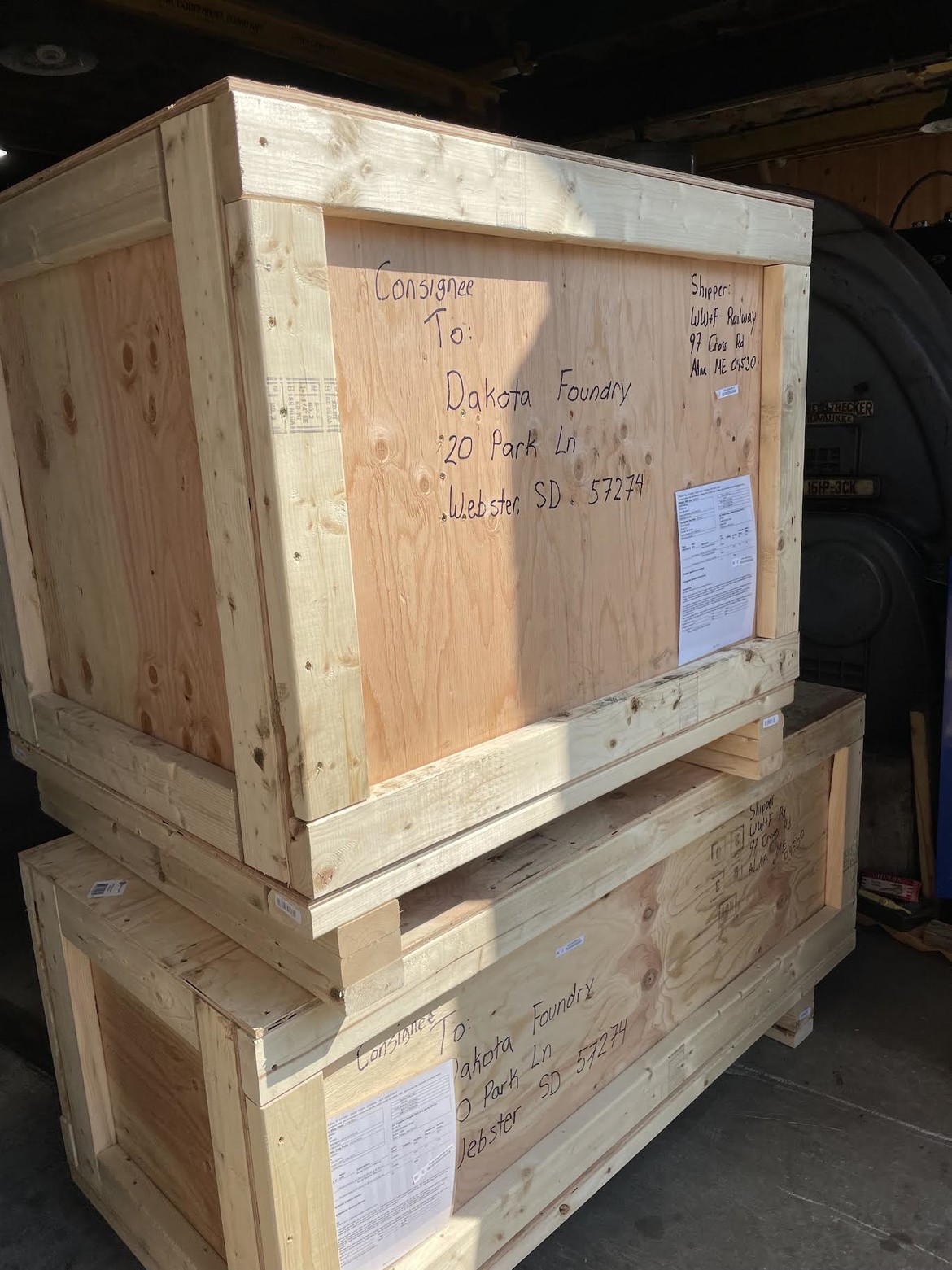 In other news concerning Dakota Foundry, the drive wheel center patterns, as well as the cranks (created by Bernie Perch) and the rear frame extension (by Alan Downey) castings, were crated by Harold and Alan Downey and were picked up by the trucking company on Thursday morning. Those pieces will be ductile iron rather than grey iron.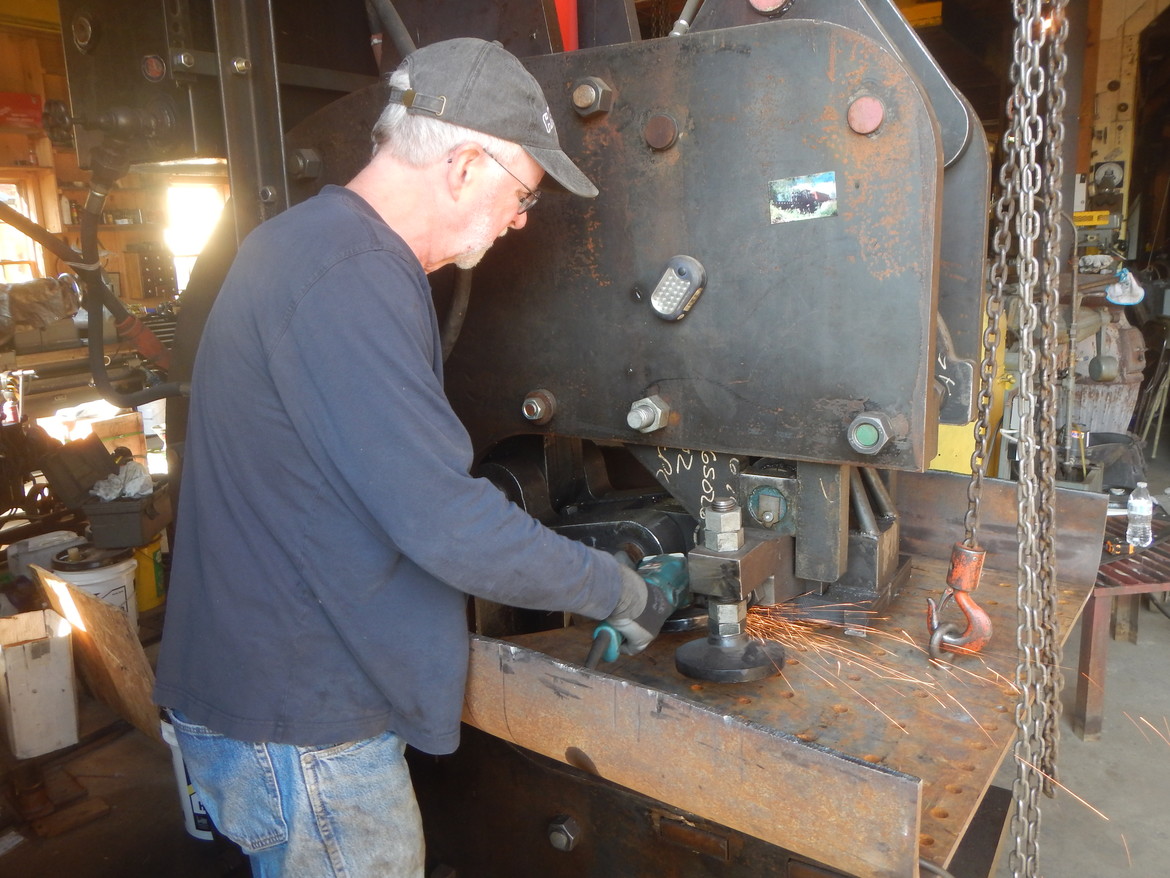 Several members of the No. 11 Project engineering committee were in Sheepscot over the past several days, during which they continued the work of forming parts for locomotive fireboxes. Jason, Rick, Gordon (pictured) and Wayne were involved in the process, using the flanging machine to form the rear firebox and the door wrapper sheets. In addition, a method was developed to form the throat sheet using the flanger.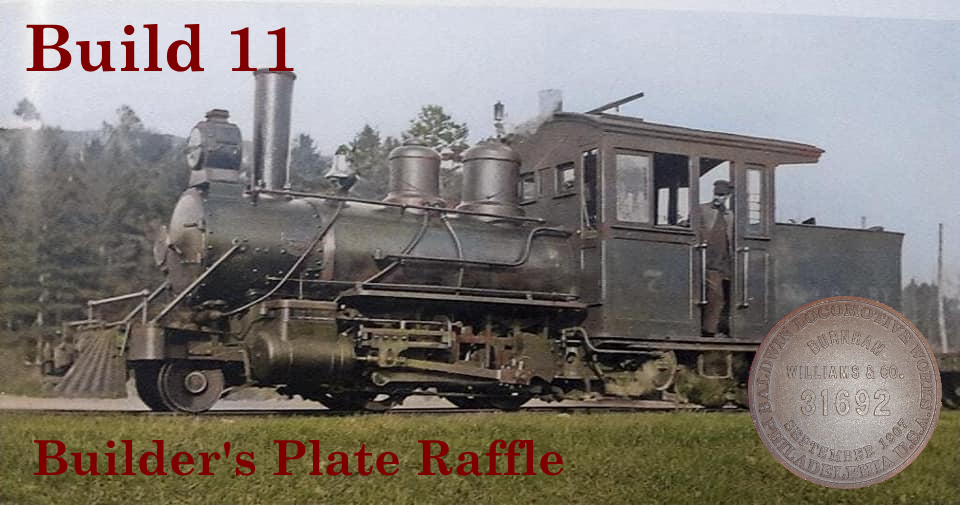 Donations for No. 11 continue to come in, and donations contributed during 2021 stand now at $66,642. There is still time for you to contribute if you have not done so, however. The fund raising doesn't officially end until Dec. 31, 2021. Donate at www.build11.org.
Finally, on Saturday evening, as No. 9 was rolling into the engine house for the first time, the two names were drawn for the raffle winners from among those who purchased raffle tickets to support our fundraising for No. 11. Grand prize winner is Bill Baskerville, and Peter Kuntz is the runner-up. Congratulations to both, and thanks to everyone who purchased tickets. The raffle raised over $1000 to help us make progress on No. 11.